Experience Rejuvenation with Jeuveau at CaptivatingU Med Spa!
Discover the secret to a more youthful, vibrant appearance with Jeuveau! At CaptivatingU Med Spa, we are thrilled to introduce Jeuveau injections, a groundbreaking treatment that promises to refresh and revitalize your skin, making you look as youthful and energetic as you feel.
What is Jeuveau? 
Jeuveau is an FDA-approved neurotoxin, specifically crafted to smooth out facial wrinkles and fine lines, offering a refreshed and rejuvenated appearance. Known as the "#NewTox on the block", Jeuveau has been gaining popularity for its remarkable results and its ability to offer a smoother, more youthful complexion.
Key Characteristics:
FDA-Approved: Ensuring safety and effectiveness for aesthetic use.
Targeted Treatment: Specialized in smoothing out frown lines between the eyebrows.
Quick Procedure: Minimal downtime with noticeable results.
Our expert team of professionals is dedicated to providing personalized care, ensuring that your Jeuveau treatment is tailored to your unique needs and desires.
Schedule Your Free Consultation Today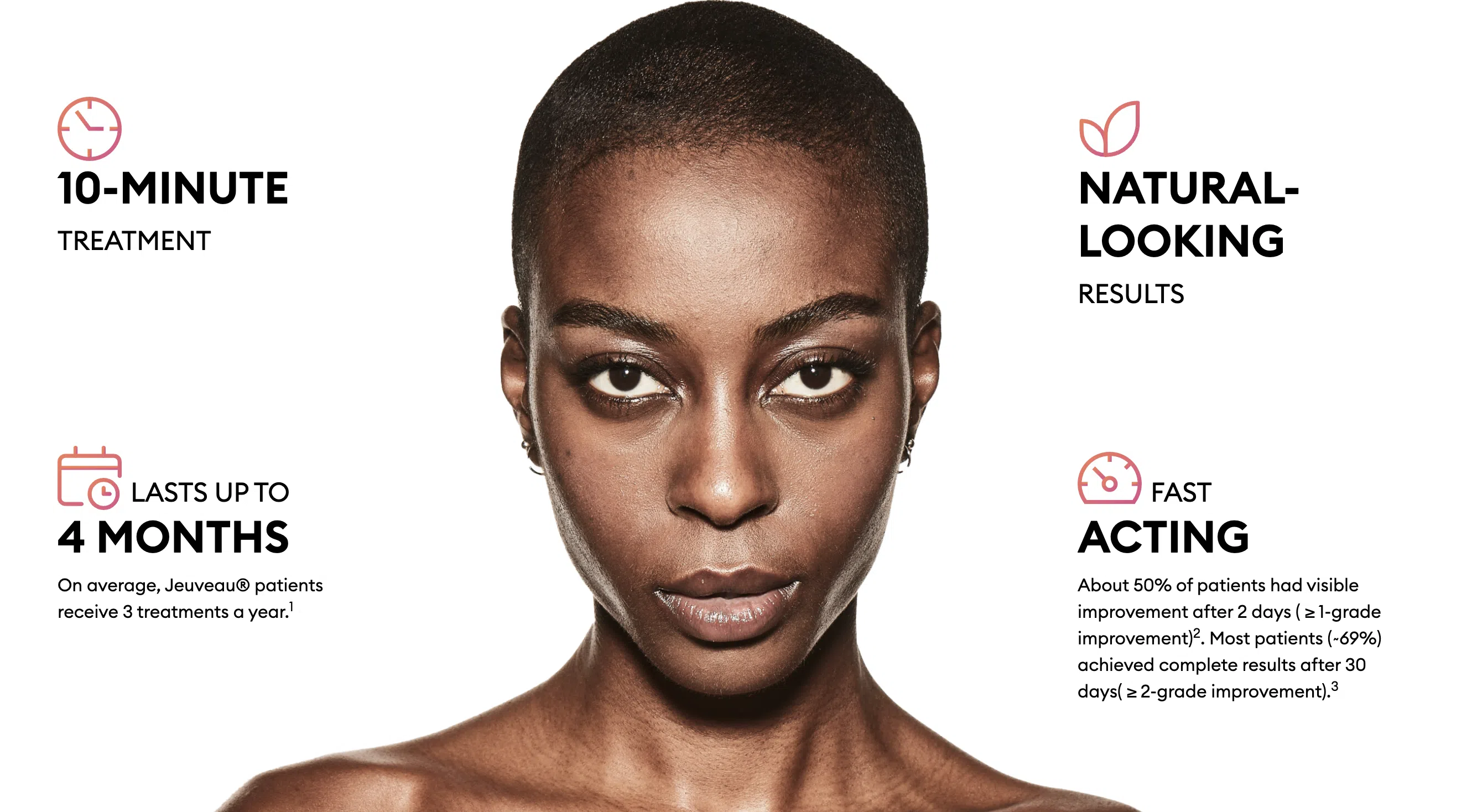 Wondering when is the right time to consider Jeuveau injections? Whether you are noticing the first signs of aging or looking to maintain your youthful appearance, Jeuveau could be the perfect solution!
Early Signs of Aging: Address fine lines and wrinkles as they appear.
Preventative Care: Proactively manage signs of aging for a consistently youthful look.
Special Occasions: Look your best for weddings, reunions, and other significant events.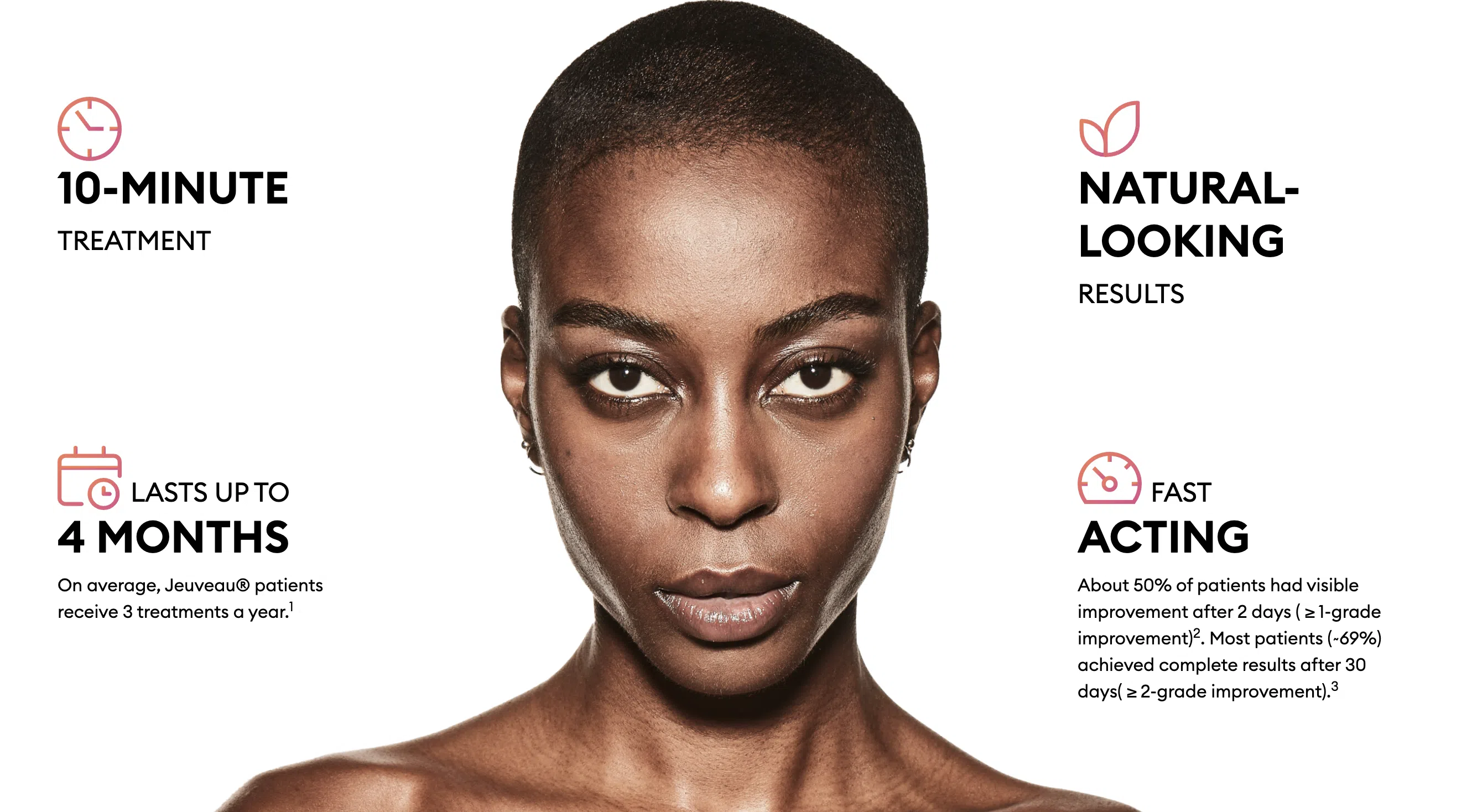 Best Areas of the Face Jeuveau Can Treat
Jeuveau is renowned for its precision and effectiveness in addressing various facial wrinkles, allowing you to put your best face forward.
Glabellar Lines:

Location: Between the eyebrows.
Effect: Smooths out the frown lines, offering a more relaxed and approachable appearance.

Forehead Lines:

Location: Horizontal lines across the forehead.
Effect: Reduces the appearance of wrinkles, resulting in a smoother and more youthful forehead.

Crow's Feet:

Location: Around the outer corners of the eyes.
Effect: Diminishes the fine lines radiating from the eyes, rejuvenating your gaze and brightening your expression.

Bunny Lines:

Location: On either side of the nose.
Effect: Softens the wrinkles that appear when scrunching the nose, contributing to a more harmonious facial expression.
Whether you desire to soften the signs of aging or enhance your natural beauty, Jeuveau offers a versatile solution for a captivating transformation!
Jeuveau Vs. Botox Comparison
Let's delve deeper into the nuanced differences and similarities between Jeuveau and Botox:
Onset of Action:

Jeuveau: Known for showcasing results in a relatively shorter time, some clients observe visible improvements within 2-3 days post-treatment.
Botox: Typically, Botox might take a few more days for the initial effects to be noticeable, with optimal results settling in after a couple of weeks.

Pricing Consideration:

Jeuveau: Often comes at a competitive price point, making it an attractive option for those seeking affordable yet high-quality aesthetic solutions.
Botox: While renowned for its efficacy, Botox can sometimes be positioned at a higher price range.

Treatment Areas:

Jeuveau: Excellently versatile, Jeuveau is FDA-approved for the treatment of glabellar lines but is also effectively used off-label for other facial areas.
Botox: Botox has a broader FDA approval for various aesthetic and therapeutic uses, including chronic migraines and excessive sweating.

Post-Treatment Considerations:

Jeuveau: Minimal downtime is required post-treatment, allowing clients to quickly return to their daily activities with a renewed sense of confidence.
Botox: Similarly, Botox treatments necessitate minimal recovery time, contributing to its standing as a convenient option for aesthetic enhancements.
In conclusion, while both Jeuveau and Botox offer remarkable benefits for those seeking to smooth out wrinkles and rejuvenate your appearance. We are dedicated to guiding you through the options and ensuring a tailored approach to meet your aesthetic aspirations.
Jeuveau at CaptivatingU Med Spa
Your beauty and well-being are our top priorities. Our expert team of professionals is dedicated to providing personalized care, ensuring that your Jeuveau treatment is tailored to your unique needs and desires. We create a serene and comfortable environment, allowing you to relax and enjoy the journey to a more captivating you!
Why Choose Us:
Experienced Professionals: Our certified team is well-versed in administering Jeuveau injections, ensuring optimal results.
Personalized Care: Every treatment is customized to meet the individual needs of our clients.
Comfortable Environment: Our spa is designed to offer a tranquil and relaxing experience.
Schedule A Free Consultation
We are happy to answer any of your questions. Call or schedule your free consultation online. 
Q: Is Jeuveau safe?
A: Yes, Jeuveau is FDA-approved and has undergone rigorous testing to ensure its safety and effectiveness for aesthetic use.
Q: How quickly will I see results?
A: Many clients observe results within a few days of the treatment, with optimal results typically visible after two weeks.
Q: Can Jeuveau be used in combination with other treatments?
A: Absolutely! Our team at CaptivatingU Med Spa will work with you to develop a personalized treatment plan, combining Jeuveau with other suitable treatments for enhanced results.
Revitalize, rejuvenate, and rediscover your youth with Jeuveau at CaptivatingU Med Spa! Our dedicated team is here to guide you through each step, ensuring a comfortable and rewarding experience. Schedule your consultation today and embark on a journey to unveil the most captivating version of yourself!
Visit CaptivatingU Med Spa Today!
Unlock the best version of yourself at CaptivatingU Med Spa, where we tailor each treatment to your individual beauty and wellness goals. Book your appointment today for a personalized experience that will leave you feeling rejuvenated and more confident than ever. Serving Northern Cincinnati and West Chester Township.
"I had such a wonderful experience at CaptivatingU. Tristyn greeted me as soon as I walked in, she made me feel very welcomed and asked if I needed anything to drink while I waited. The spa is very clean and put together beautifully!
Angela serviced me and she was so nice and very informative, she did a phenomenal job and was very quick. I feel & look amazing, I will be coming back & 10/10 recommend CaptivatingU Med Spa for your needs!"