Invest Towards a Shaveless Future – Hair Removal Pricing
We like to be upfront so here are the costs associated with our hair removal treatment in West Chester:
List pricing is per body area; we recommend receiving at least 6 treatments spaced every 4-6 weeks. 
Lip/chin: $125

Underarms: $150

Bikini: $200

Brazilian $250

Full Leg Both: $425

Chest: $200

Back: $350 
SHavings… Opportunity! Buy 5 treatments get 1 Free as "special" package pricing! 
We have two hair removal options available. The first one uses IPL, which is the most popular choice among our clients. The second option is the ND YAG laser, although it is not as commonly chosen due to its higher level of discomfort. Of course, there are pro's and con's to both which we will explain to you during your free consultation. 
Schedule Your Free Consultation Today
The Laser Hair Removal Process
Does laser hair removal hurt? A question many ponder upon. Here at CaptivatingU, we prioritize your comfort and safety, ensuring a virtually painless experience!
By targeting hair follicles with a light beam, laser hair removal stops hair from growing back while keeping the skin safe. And the joy of it – sessions are swift, leading you steps closer to flawless skin within minutes!
Detailed Steps of Process:
Consultation: Understanding your skin type, hair texture, and addressing concerns.
Preparation: Guidelines to prepare your skin for the treatment.
Treatment: Executing laser hair removal with precision and care.'
We know it is great to research online and that is why we provide as much information as possible. If you would rather explain your goals to a professional and let them tell you your options and all about the process please contact us and we are happy to do that as well. 
Laser Hair Removal Safety, Recovery, and Efficacy Explained
What can one expect during the recovery period following laser hair removal, and what is its duration? Our clients usually return to their everyday activities right away due to the negligible side effects of laser hair removal. It's common to see some slight redness or swelling, but these symptoms usually diminish in a matter of hours. And the results? They're impressive! Clients often notice a significant decrease in hair growth after undergoing several sessions, and in some cases, this reduction can be permanent!
Recovery Guidelines:
Avoid direct sunlight and use SPF diligently.
Stay clear of hot baths or saunas for a few days.
Guaranteed results – what does that mean. We are not a high volume med spa which means we take the necessary time to make sure our work is excellent. If you are not satisfied with our results we will make it right – but don't just take our word for it. 
Who is an Ideal Candidate for Laser Hair Removal?
Whether you're aiming to diminish ingrown hairs, liberate yourself from frequent shaving, or simply enhance your confidence, understanding your motivation will ensure you approach the treatment with the right mindset, enhancing satisfaction with the outcomes.
While laser hair removal is a great fit for many, a consultation with our experienced team at CaptivatingU Med Spa will offer clear insight, making sure the procedure is perfectly tailored to your unique requirements. Discover the perfect blend of cutting-edge technology and unmatched skill, and take the first step towards lasting smoothness with confidence!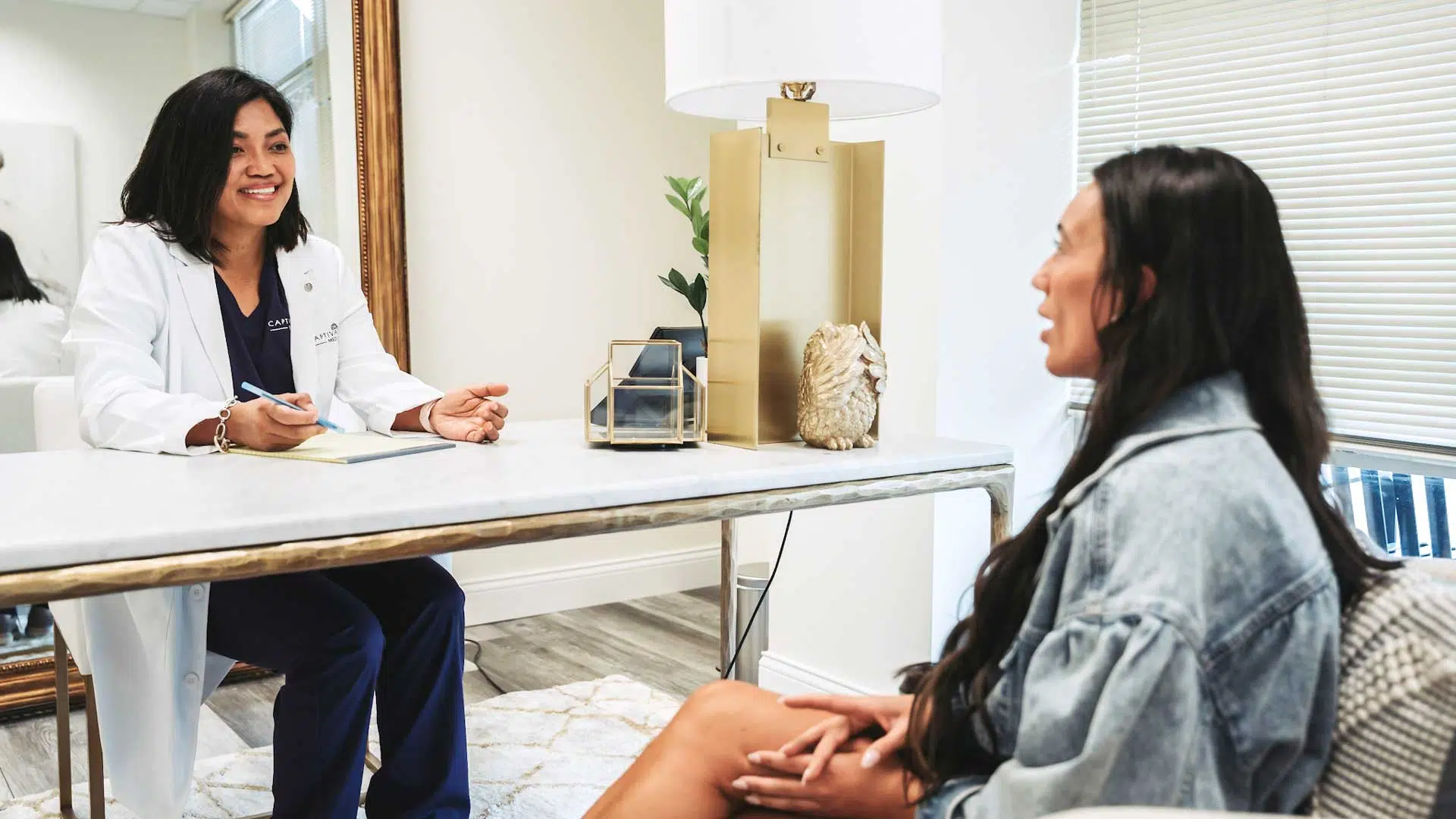 Choose CaptivatingU Med Spa
Start your hair-free journey with CaptivatingU Med Spa, where technology, expertise, and genuine care come together for a unique experience. Our certified professionals are not only adept but also dedicated to sculpting your treatments with utmost precision, ensuring safety and efficacy.
Here's Why CaptivatingU Stands Out:
Expertise: Knowledgeable and experienced professionals.
Client-Centric: Tailored treatments addressing individual needs.
State-of-the-Art Technology: Employing cutting-edge laser technology.
Contact us today to schedule your free consultation!
Schedule A Free Consultation
We are happy to answer any of your questions. Call or schedule your free consultation online. 
Laser Hair Removal Frequently Asked Questions
Q1: How long does each laser hair removal session last?
A1: Depending on the area being treated, sessions can range from a few minutes to an hour.
Q2: Is laser hair removal safe for all skin types?
A2: Yes, our advanced laser technology is designed to safely treat various skin types.
Q3: How many sessions will I need to see results?
A3: Typically, clients notice significant results after 3-7 sessions.
Q4: Can laser hair removal treat ingrown hairs?
A4: Absolutely, it's an effective method to address and prevent ingrown hairs.
Visit CaptivatingU Med Spa Today!
Unlock the best version of yourself at CaptivatingU Med Spa, where we tailor each treatment to your individual beauty and wellness goals. Book your appointment today for a personalized experience that will leave you feeling rejuvenated and more confident than ever. Serving West Chester Township.